Shipwatch Villas, Wild Dunes on the Isle Of Palms
At the Shipwatch Villas on Isle of Palms you really do have the opportunity to watch sleek sailing yachts and custom trawlers glide by from your wall of windows overlooking the magnificent Atlantic Ocean.
Shipwatch Villas are comprised of 4 buildings each a combination of 2 and 3 bedroom flats and 3 bedroom townhomes. Each building has covered parking and a glass encased exterior elevator. Sited perfectly around the Shipwatch Villas pool and commons area which includes a beautifully landscaped path to the ocean, each unit takes advantage of the spectacular oceanfront views, while some of the 3 bedroom townhomes also enjoy a golf course view. Placement of each villa lends itself to maximum privacy while reinforced concrete and steel construction combined with soundproofing and insulating glass cuts down outside noise.
The 2 and 3 bedroom flats have a partial wrap-around balcony off both the living room and master suite.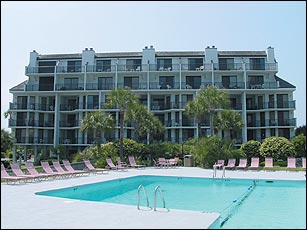 The 3 bedroom townhomes have upstairs and downstairs balconies accessed through the living room and master suite as well as another balcony off the second level guest suite. Square footage varies from 1084 for a 2 bedroom unit to 1616 for the 3 bedroom townhomes.
Shipwatch Villas are part of the Wild Dunes community and homeowners can take advantage of many of the Wild Dunes amenities such as the security of a gated neighborhood, marina and boat ramp facilities, along with membership opportunities to the Wild Dunes Club. The Villas are within walking distance of the Wild Dunes Links Golf Club, a Tom Fazio designed golf course.
Two bedroom flats start at $520,000 and prices continue up to $800,000 for a 3 bedroom townhome.
Map of Wild Dunes in the Isle of Palms, SC
View Larger Map