Ocean Club Condominiums, Cocoa Beach
You can see for miles from the boardwalk that leads from Ocean Club Condominiums to the sandy Atlantic shore, and your clear view of the magnificent ocean is enhanced by the lush green space that surrounds you, offering shade for your comfort and color to your visual experience. The beach is quiet and peaceful in this area of beautiful North Cocoa Beach, Florida, with only the occasional runner or cyclist passing by.
According to Bobby Freeman of the McCoy-Freeman Real Estate Group, Ocean Club is an "exceptional property."
"This outstanding development is the work of award-winning architect Lawrence Beame of Miami, and among the many exceptional features he insisted on is the dual-protection of both hurricane-resistant windows and hurricane shutters,"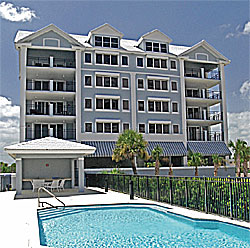 Freeman says. "No matter what the tropical storms might bring, Ocean Club residents are doubly safe."
Ocean Club's 11 units all share the stunning beach view, and each has a two-car garage and a private elevator that opens into an immaculately-decorated foyer. Starting at 2,800 square feet, the distinctive qualities of Ocean Club Condominiums include spacious walk-in closets, European-style cabinetry, granite kitchen counter tops and marble counter tops in the bathroom. A wide choice of carpet colors are offered for the living room, den and bedrooms, and GE appliances are standard. Each unit has a security system.
"In fact," Freeman says, "I don't even like to call it a condo because it's much more of a home residence, with windows throughout for a panoramic ocean view, a private elevator, a back door to each unit and so much more.'
Off a quiet street alongside the beach, Ocean Club is a perfect escape from the hustle and bustle of everyday living, ideal either as a second home or as a primary residence.
If you choose to venture outside the environs of your peaceful beach retreat, Ocean Club Condominiums are located just minutes from a variety of great family attractions, including the Kennedy Space Center, Ron Jon's Surf Shop and the park at the Cocoa Beach Pier. And nearby Cape Canaveral is home to one of the largest cruise terminals in Florida, with two Disney, several Carnival and many other ships passing through on their way to the Bahamas and other exotic destinations.
Map of Cocoa Beach, FL
View Larger Map