Sea Watch Resort, Myrtle Beach
If you owned a condominium unit at Sea Watch Resort in Myrtle Beach, you could ...Go to sleep each night on the oceanfront ...Wake up the next morning to see the sun climbing above the ocean ...Breakfast in your room, if you choose, or dine at the in-house restaurant ...Walk, swim and sun by one of the four pools, or on the sandy beach ...Take a night out on the town, from theatrical performances, to star concerts ...And start all over again.
As Gene Carter, the broker-in-charge of Advantage, says, "Not many other places can offer all that, and more." Advantage has sold over 20 condominiums in Sea Watch in the past year. And if his Advantage Real Estate sales staff really want a pitch that surely couldn't miss, here is a possibility:
Sure, a buyer can talk about the three outdoor pools, two indoor pools, two lazy river rides, two indoor whirlpools,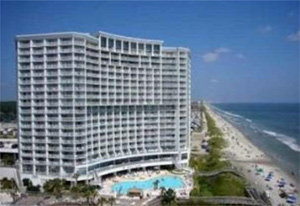 four outdoor whirlpools, exercise room, a tiki pool bar, an oceanfront restaurant and a lounge. Talk about one, two or three bedrooms.
Or talk about seclusion from the hustle-and-bustle of the Grand Strand resort.
Advantage Real Estate has,14 years of general brokerage. Although Advantage sells all types of properties, the majority of their business involves condominiums and oceanfront properties.
For instance, Carter says, his firm has sold condominiums in more than 100 different oceanfront buildings in the Myrtle Beach area. He offers a website that gives not only "hot" listings but the means of getting up-to-date information on sales in Sea Watch and other similar resorts.
The market in Sea Watch is tight, Carter says, because of its success. About two-thirds of the units are rentals, and the rest are second homes. "That is why experience in Sea Watch sales is so important to the buyer and seller," says Carter.
Map of Myrtle Beach, SC
View Larger Map