Pelican Watch, Seabrook Island
Private and secluded, Pelican Watch Villas are the most affordable ocean-front condominiums on Seabrook Island, with asking prices ranging from $300,000 to $425,000. Positioned to take full advantage of the spectacular Atlantic Ocean and Edisto River views, Pelican Watch Villas are 900 square foot flats with one bedroom and two full baths. Each villa has separate front and rear entrances along with a private deck overlooking the water. This veranda is the perfect place for watching a spectacular sunset while enjoying evening cocktails with friends.
Built in 1982, Pelican Watch Villas enjoy the timeless beauty of true coastal construction. Mature landscaping including palmettos, pampas grass, and other indigenous vegetation surrounds the two-story gray-washed, wood-sided 108 unit buildings complete with assigned parking. Each unit has a spacious living room/dining area, St. Charles kitchen with laundry alcove, and plenty of closet space.
Pelican Watch Villas appeal to a variety of homeowners, including second-home vacationers and folks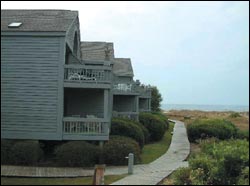 looking for a good investment as all Pelican Watch Villas have a solid rental history.
Along with enjoying over three miles of sugar spun beaches, majestic moss draped live oaks, and swaying marsh grasses, residents of Pelican Watch Villas have full access to the owner's pool along with a state of the art equestrian center.
Membership to the Club at Seabrook Island, an ocean-front beach facility, is open to all Pelican Watch homeowners and offers golf, tennis, and unlimited use of the club pool, along with a private restaurant and social area. Different levels of memberships are available based on individual interests.
Leading onto Seabrook Island, and open to the public, is a deep water marina village with quaint boutique shops and a variety of restaurants from casual to fine dining. Conveniently located right outside the Seabrook Island entrance are a fully-stocked general store, medical office, and full-service restaurant. Perfect for a day sightseeing trip, exciting night life or major shopping expedition, downtown Charleston is only thirty minutes away.
Map of Seabrook Island, SC
View Larger Map