Margate Towers, Myrtle Beach
Bea Catalano sums it up in two words: Just gorgeous!?
The subject of her glowing praise is Margate Towers, a small world of ocean-front luxury, privacy and beauty located along the Atlantic Ocean between North Myrtle Beach and Myrtle Beach.
Margate Towers is a small slice of heaven in Kingston Plantation, a beautifully planned and developed 1,450-acre resort community on South Carolina's Grand Strand.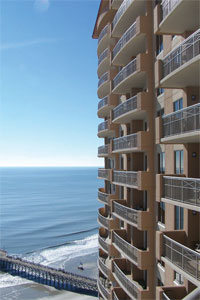 Sitting peacefully amid Kingston Plantation's beautiful landscaping and quiet lakes are a conference center, clubs, condominium homes and even a water park. Kingston Plantation is a secure gated community, providing privacy for residents and for those enjoying a short, relaxing getaway. It's truly a world within itself.
Margate Towers rises 29 stories above the calming ocean landscape. It includes 251 residences, ranging from two to four bedrooms and from 1,800 to 2,800 square feet. All units feature the finest in modern amenities, from open, flowing floor plans to nine-foot ceilings to balconies overlooking the beautiful Atlantic.
Although all residences are privately owned, many owners rent their condominiums to vacationers. Margate Towers has an office on-site to manage rentals and provide first-class service.
Map of Myrtle Beach, SC
View Larger Map