Inlet Point Villas at Litchfield Beach in Litchfield
Inlet Point Villas at Litchfield Beach, S.C., is an affordable way to own a piece of paradise, the beach retreat of your dreams within striking distance of both the excitement of Myrtle Beach and the historic Lowcountry charm of Charleston.
For 42 years, Litchfield Real Estate, conveniently located on much-traveled Highway 17, has helped families with vacation rentals, new home purchases and interval ownership properties in an area known for its natural beauty and relaxed way of life.
Inlet Point in Litchfield Beach, a gated community bordered on one side by the Atlantic Ocean and on the other by the Midway Inlet, is one of Litchfield Real Estate's interval ownership condominium developments. The beautiful, secluded complex offers two floor plans, with 13 shares per unit, and holds two of Litchfield Real Estate Company's interval ownership properties.
E. Stone Miller, broker in charge of Litchfield Real Estate, enjoys remodeling and restoring homes. His special passion is using antique architectural details in his projects. Inlet Point 2-C, the oceanfront unit, was completely gutted, remodeled,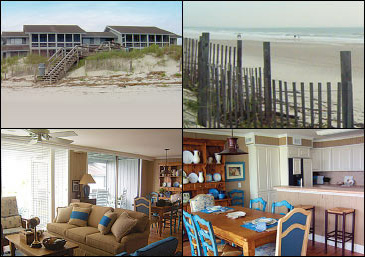 and updated at his direction. Beveled glass mirrors from antique wardrobes, a mantel from a historic Charleston house, and antiqueheart pine floors combine to give this 4 bedroom, 4 bath unit the feel of a coastal cottage rather than a condominium. The high-end kitchen appliances, Italian tile countertops, integrated stereo system and other appointments, make this comfortable and up to date. Regional decorator, Ann Hartis, has pulled together the colors of the sea and sand in the furnishings, table linens, and accents to mirror the expansive ocean views from the living areas.
Inlet Point 20-C overlooks one of the two community pools. For this unit, Hartis chose sunny yellows and cool blues to reflect the feeling of being in a tropical paradise. Miller found a wonderful antique mantel and added a built-in entertainment center of cypress that perfectly expresses the cottage feeling they were looking for. Three bedrooms, each with a private bath and each comfortably decorated, two screened porches, and a wonderful open kitchen/-dining area makes this the perfect place to entertain. All you have to do is unlock the door.
Inlet Point is a low-density community and the location at the Southern tip of the Litchfield beaches make its beaches less crowded than other areas. Having the salt-water creek at your "back door" and the ocean at the front gives you the opportunity to enjoy beachcombing and flounder fishing all the in the same day if you like! Interval ownership offers an affordable way to enjoy this paradise. Also, interval owners in this type of high-end community should enjoy the same appreciation of value that others have realized on beach properties.
Map of Litchfield Beach, SC
View Larger Map