Caribbean Resort, Myrtle Beach
The Grand Strand of Myrtle Beach extends 60 miles along the Atlantic coast of South Carolina, offering some of the most visited beaches on the Eastern seaboard. Within this beautiful stretch of sand nestled at the south end of the exclusive "Golden Mile" of high-end homes is the exquisite new Caribbean Resort.
A well-known hotel resort for several decades, Caribbean Resort is now an exclusive residential property and premier oceanfront condominium community.
Located at 3000 North Ocean Blvd., the resort features two condominium towers. The recently renovated Phase I offers 195 one bedroom suites with new wall treatments, carpeting, furnishings, bedding, draperies and accessories. Phase II is all-new construction of two- to four-bedroom condominiums ranging in size from 1,076 square feet to 1,566 square feet. Each unit features upscale furnishings, a full kitchen with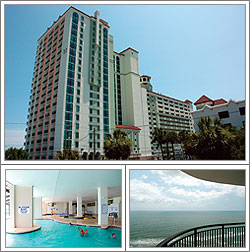 stainless steel appliances, washer, dryer, dishwasher, granite counter tops, tiled foyer, kitchen and bath, and private oceanfront or ocean-view balconies. The new tower also offers enclosed air-conditioned corridors, an elegant registration lobby and meeting facilities.
The Caribbean Resort provides exceptional amenities with an open-air oceanfront water park, as well as a 200-foot lazy river, a 48,000-gallon swimming pool, a 750-square-foot children splash deck and two large hot tubs. The newest water park at the resort features an oceanfront area with a large swimming pool, hot tub, a Silly Sub children's interactive water play attraction and a 60-foot tube slide.
"This property is close to everything in Myrtle Beach that is of interest to almost everyone," says Michael Eaglin, an area real estate professional who specializes in ocean front real estate. "The resort has a wonderful history with vacationers who have enjoyed its location next to the Atlantic for generation after generation."
Outside the resort, Myrtle Beach offers a great diversity of attractions for those who love the water. In addition to swimming, surfing, sailing, pier fishing and deep-sea fishing, the Grand Strand features extensive shopping, nearly 1,700 eateries, more than 100 championship golf courses and numerous theaters that host big-name performers, concerts and Broadway revues.
With an average of 200 sunny days a year, Myrtle Beach, South Carolina, is a dream location along the East coast. Having your own vacation home here can be a dream come true with prices starting in the low 200s.
Map of Myrtle Beach, SC
View Larger Map