Yaupon Dunes, Oak Island, NC
Speeding along U.S.. Highway 17 between Myrtle Beach, South Carolina, and Wilmington, North Carolina, few visitors realize they are passing Oak Island, one of the best-kept secrets in the Carolinas.
Oak Island boasts of 12 miles of unspoiled beaches and two towns – Caswell Beach and Oak Island, established in 1999 with the consolidation of Yaupon Beach and Long Beach.
Caswell Beach, at the eastern tip of Oak Island, offers breathtaking views of marshlands and the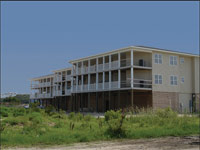 waterfront of historic Southport. Its only "high-rise" is the Oak Island Lighthouse. Reaching 169 feet into the air, it beckons the endangered loggerhead sea turtles to return annually to nest.
The town of Oak Island is a bit more commercial, with two golf courses, fishing piers – Yaupon is the highest in North Carolina – a marina, an arcade, miniature golf, a library and many shops. Fine restaurants offer relief to the ravenous after an active day of swimming, water skiing, boating, windsurfing or sailing. Another option is a picnic area on the Elizabeth River estuary system, which winds through marshlands between the island, the Intracoastal Waterway and the mainland. For the nature lover, this area is brimming with waterfowl and marine life.
The site of Yaupon Dunes was selected because of its high elevation, extraordinary views and access to Yaupon pier. The development features private access to the beach, and each of its 36 units has its own ocean-view balcony, in addition to nine-foot or vaulted ceilings, granite in the baths and kitchens and hardwood floors. Construction is scheduled for completion late in 2006.
Map of Oak Island, NC
View Larger Map